Original NeoCushion™ Orthopedic Seat Pillow
Regular price
$68.95 USD
Sale price
$49.65 USD
Unit price
per
Sale
Sold out
FREE SHIPPING from New Jersey and California
Delivery within 2 to 5 days
Increase your comfort
The NeoCushion Seat Edition is an ideal tool to increase your comfort and correct your posture while sitting. The unique shape and materials can transform sitting in a comfortable and pleasurable experience.

The NeoCushion Seat Edition was designed to help with:
● Sitting discomfort
● Acute and Chronic Pain
● Hemorrhoids
● Poor posture
● Tailbone pressure
● Stiff muscles
How does it work?
The cushion is designed to provide optimal support and comfort during sitting, regardless of where it's used. You can place it in the car, for a more relaxed driving experience. Or you could make yourself more comfortable at home, by using it while sitting in the kitchen or at your desk. The possibilities are endless.

By using it frequently, you can also improve your posture, especially when using it together with our NeoCushion lumbar pillow. This helps not only for relieving the pain, but also for maintaining a beautiful straight posture throughout the day.
Quality materials
Made from the same premium materials as our original NeoCushion, the seat edition provides a unique experience, with a well ventilated outer cover that is soft to the touch, and a soft memory foam inside that supports various body shapes and weights.
Satisfaction guaranteed
With our 30-day return policy, there is no need for you to worry. All we ask is that you send the items back to us in the original packaging, and make sure that the merchandise is in the same condition. If you are not 100% satisfied with your purchase, contact us and we will find the most suitable option.
Product specifications
Dimensions (EU): 45cm x 35cm x  7cm
Dimensions (US): 18in x 14in x 2.7in
Materials: Memory foam cotton & Mesh outer fabric
Color: Sky blue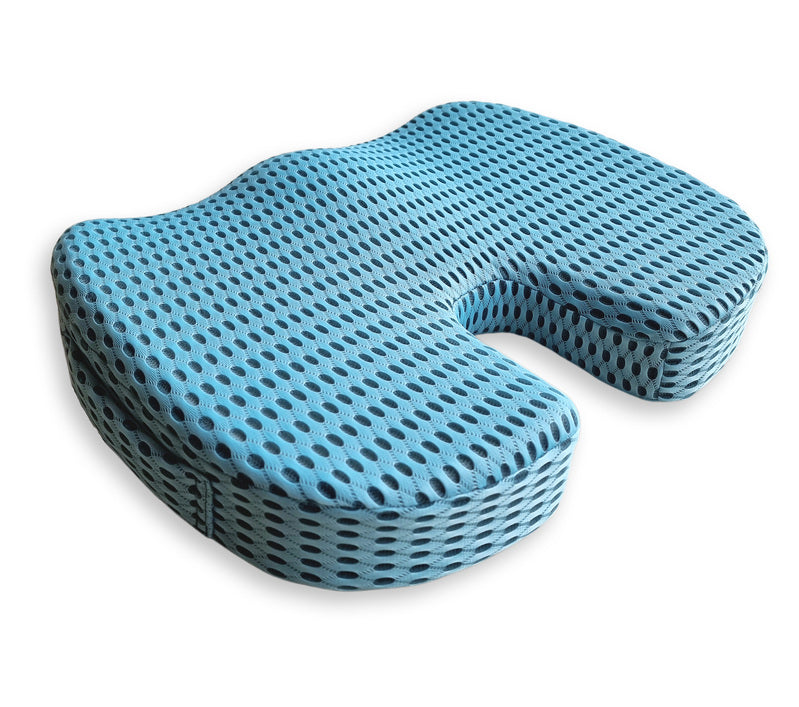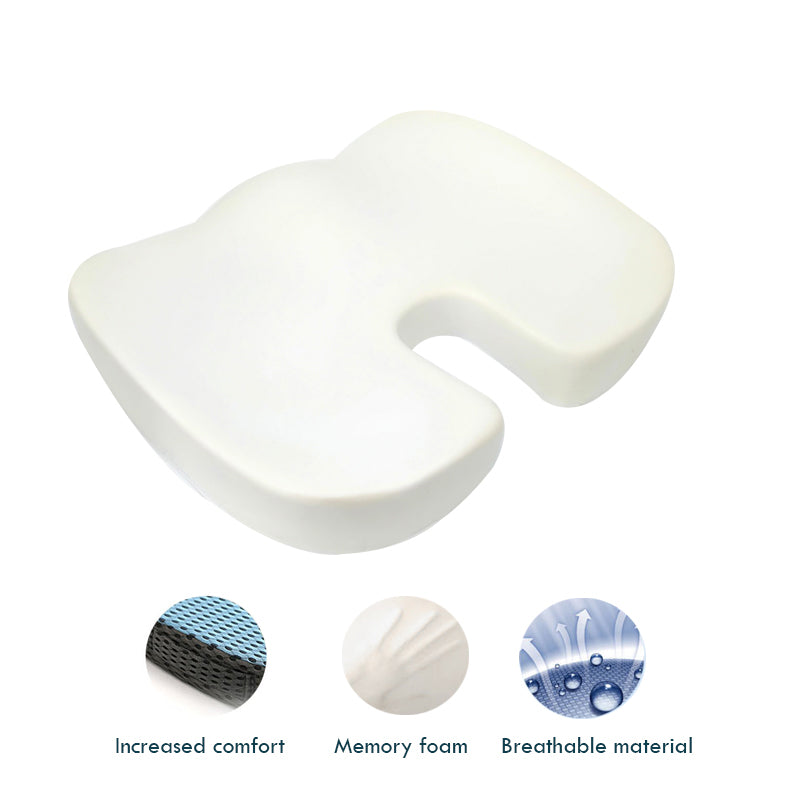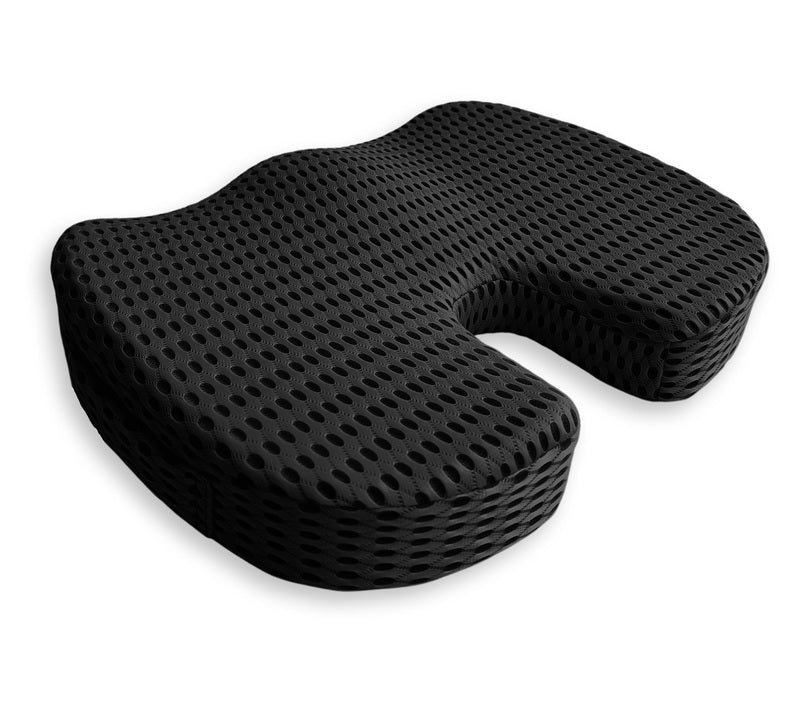 It's been a few days and I can tell my tailbone is healing. I've tried a donut shape cushion before, but this shape is far more superior with opening at the right place. I'll have to buy another one so that I don't have to move it between the seats I have in the house. Great product!
Completely Satisfied.
I was getting excruciating pain in my tailbone from sitting down all day working with a simple cushion. I've watched plenty of review on YouTube on different products, but ended up going with this brand and I can't lie it's still has the same comfort as day one. I've been using it everyday for almost 2 months now and no more pain. Make sure to put it the side with the hole facing your back. You don't want your tailbone on the cushion itself.
This seat cushion by far has been the best thing ever. I sit all day at work , my lower back started to have pain from sitting, the moment I used this cushion I felt relief on my back. Definitely would recommend it!!
Life changing
I'm so happy I bought this. I sit in a way that gets to my tail bone, and yes I got a butt to help cushion it, but I've still been getting pain there! The cushion helps relieve this, and is definitely a life saver.
Compared to other models, this is by far the best because of the comfort & price. There is more cushion, so I feel that my weight is properly supported, while other models literally flatten out as soon as I sit.
exceeded my expectations
I had high hopes but low expectations - this has exceeded my expectations. The construction seems pretty solid; no tears or broken/missing stitching, the zipper works fine, the foam inside seems clean and has no smell.
Fast shipping and I was surprised how flexible is this pillow. It came in a small package all very tight that I thought for a minute that it won't come back to its initial form, but it came
Sitting in a chair for 5-6 hours at a time will definitely cause you to develop some pain. When I have longs days like that ahead of me on those hard chairs, I take this with me. It actually forces you to sit upright, which takes some of the pressure off.
The best thing I can say about it is that I forget it's there because it's sufficiently comfortable that my brain doesn't need to be thinking about the comfort of my butt.
It works for me. Sitting with out the cushion I can feel the pressure on my tailbone area, with the cushion it's gone. very comfortable.